Radio Bartica bridging the information gap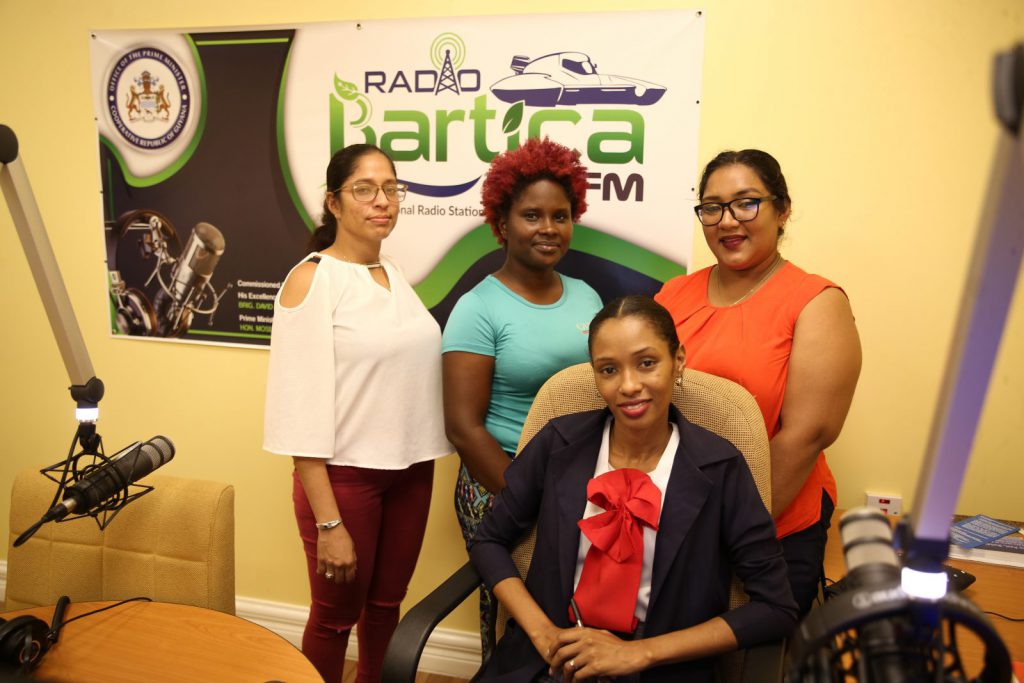 Since picking up the mantle over a year ago, the announcers at Radio Bartica have transformed the lives of thousands of Guyanese by being their source for timely information.
Danielle Singh-Bishun, Martina Ambrose-Jhingoree, Carlita Williams and Cianna Persaud are some of the voices that are keeping Barticians abreast with all that is happening within their township and further afield.
During a recent visit to the radio station, it was evident that these young broadcasters are eager to continue bridging the information gap and between the coast and the hinterland regions
"It's very fulfilling, to know that you're playing a role in providing persons with the necessary information, updating people on things happening not just in our region here, things that are happening in Guyana and even around the world expressed broadcaster, Danielle Singh-Bishun.
Speaking to the Department of Public Information, Carlita Williams who is also a trainee nursery school teacher dubbed the experience a humbling one. "At the end of the day, you can come and you can play your part in the transition…this is something that is being done for the betterment of our country, our country's development and we're a part of that process."
Martina Ambrose-Jhingoree

Radio Coordinator, Cianna Persaud

Carlita Williams

Danielle Singh-Bishun
Ambrose-Jhingoree is determined to ensure that the views of ordinary Barticians are heard. She explained that many days she would take to the streets and engage residents.
"It doesn't make sense you have a radio station and persons don't have access to it…so I would go into the streets and find out from persons what are their concerns, how they feel about Radio Bartica, if they're getting enough information, when you hear them say they listen to the radio every single afternoon and they are enjoying the information we are sending out, it feels as though we are serving our purpose at radio Bartica."
The Bartica airwaves is packed with a several programmes. Persons in Georgetown can also tune into Radio Bartica online and can expect to be greeted by the unique Bartician flavour.
Radio Coordinator, Cianna Persaud explained "Monday is education, Tuesday regional development, Wednesday culture and sport which is straight forward, Thursday health, Friday our entertainment or our little light segment. Saturday moods is showcasing talent and of course, local musical area but of course people love it for the music that we play. The on Sunday, Sunday social is a little bit serious I try to bring a little bit of what's happening and give social issues and air."
Radio Bartica was commissioned by President David Granger and Prime Minister Moses Nagamootoo in 2017.
Images: Keno George
Source: DPI, Guyana, Tuesday, June 18, 2019